Alpha offers hair transplant treatments by regulated and internationally accredited clinics and surgeons. Our extensive vetting procedure on which clinics we partner up with is all based on the level of latest technology and advanced surgical methods that each clinic carries out. This ensures clients from the UK can maintain life changing results in Turkey whilst maintaining affordable results. Alpha is here to wipe out the risk factor. Book a Consultation based in our clinic in the UK or online over Zoom and receive a personalised treatment plan. Alpha has had the pleasure of assisting clients from the United Kingdom, Ireland, Germany, and the United States of America receive best in class treatments.
Recently, Turkey has become a desired destination for hair transplant in Turkey and hairline treatment operations. With plenty of experience and high-quality medical services, Turkey, beyond any doubt, is the best place for a variety of hair loss treatments. The hair loss clinic in Turkey provides remedies for hair loss at reasonable costs compared to those of European countries. As the leading hair transplant in Turkey clinic, Alpha offers all-inclusive hair transplant packages for your hair loss treatment including accommodation, transfers, a personal translator, and life-long aftercare. The hair transplant in turkey package will make your health travel to Turkey easier and everything will be arranged by your medical coordinator. Our well-equipped medical team achieves thousands of satisfying hair transplant results every year. Alpha provides the most affordable and efficient hair transplant in turkey package.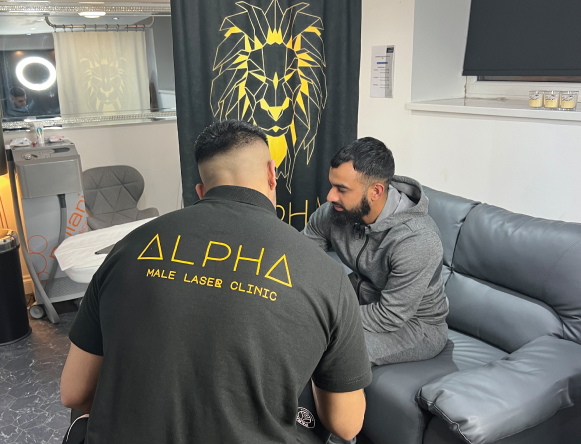 Alpha do not charge for any additional fees or hidden costs. We work all-inclusive package based and ensure that every client understands the costs is explained before any treatment has been carried out. We also offer flexible payment options to suit each client. We ensure our level best that your stay in Turkey is met with complete comfort and does not feel rushed or stressful. To get 100% results it is important for you to focus only on the procedure. Our packages include 4 or 5 star hotels, VIP airport transfers, a team of International and English speaking patient hosts, consultation, check-up and medications.
HAIR TRANSPLANTS PACKAGE
ALL INCLUSIVE 4 DAY TRIP TO TURKEY (ISTANBUL) HOTEL AND CLINIC
SAPPHIRE FUE METHOD – UPTO 9000 GRAFTS
FAQ's?
Most frequent questions and answers
We hope to have answered all your questions. However, if you have any further questions, you can email us at info@alphalaserclinic.com, and we will get back to you as soon as possible.